9th Month Completed!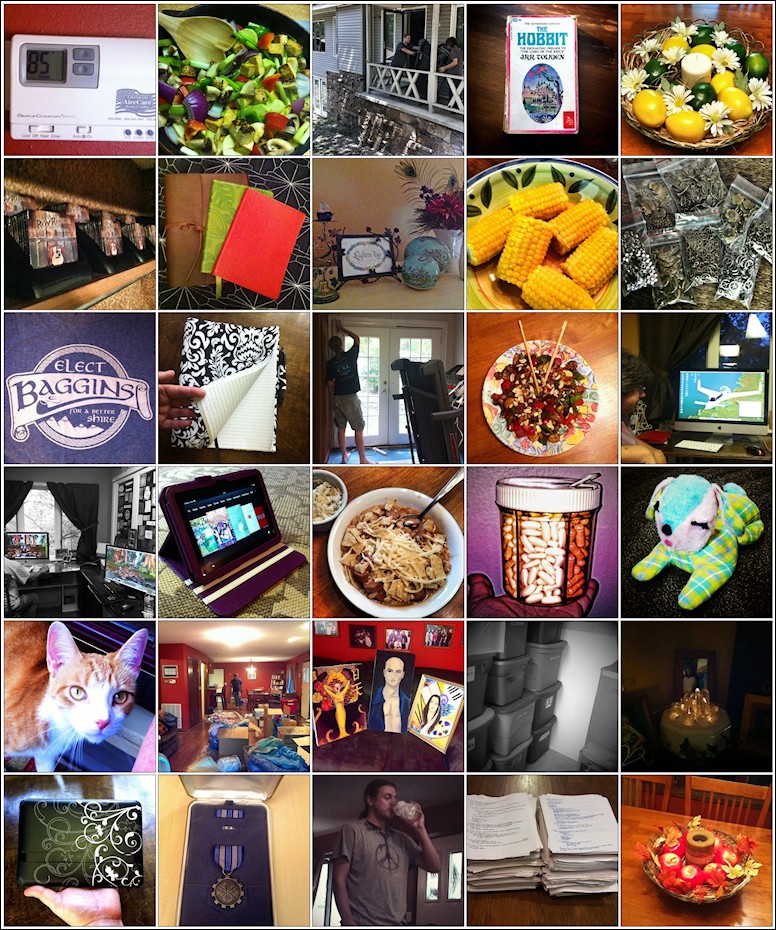 (VIEW ALL MY YEAR'S PHOTOS ON MY Flickr account here.)
LEGEND FOR ABOVE PHOTOS
1. 246. Electricity back on after 16 hours. Got up to 85 degrees inside, made worse by 50% humidity. Ready for AC!, 2. 245. Fresh veggie stir-fry & my wood spoon shaped like a heart (or a butt depending on who you ask, me or Roy)., 3. 247. Adam & Roy moving my treadmill out of my office & into its own room (door you see bottom left of house.) Yay!, 4. 248. First real piece of literature I read as a young teen. This is my very worn copy from back then. 1972 edition., 5. 249. Dining room table centerpiece I made today using some ideas people gave me. FYI: fake fruit., 6. 250. Roy's been organizing his studio area including having a group of CDs in display trays ready to grab for shows., 7. 251. Blank books. I love keeping several of these around for filling with whatever I want., 8. 252. Top of my office supply cupboard. Bought this quote (unframed) years ago in a LDS bookstore. Wise advice., 9. 253. One of the choices on our dinner table today., 10. 254. Gonna make some bookmarks, pen & iPhone bling etc. You can buy these charms on Ebay for mega cheap., 11. 255. Saw this t-shirt and had to grab it., 12. 256. Bought a custom cover for my spiral notebooks I use for my morning journal. Its removable., 13. 257. Getting some work done by Adam in my exercise room., 14. 258. Stir fry with raw cashews., 15. 259. Roy admiring his wallpaper. He's a small plane enthusiast., 16. 260. Roy brought his computer up to my office & we played World of Warcraft for several hours today., 17. 261. Gave Roy my iPad so he got me a new Kindle Fire HD., 18. 262. Was craving a dish I made years back. Made a healthier version. BBQ beans, soy dogs, corn chips, soy cheese., 19. 263. I occasionally use a short term vitamin regime for specific purposes. This slotted holder is pretty helpful., 20. 264. A stuffed animal from my childhood. This bunny is over 40 years old., 21. 265. Neighbors cat Birdie sure misses Alyssa. This cat would follow her everywhere outside, 22. 266. My living room today. Cleaning out and tossing stuff we don't need., 23. 267. While cleaning out we found these old paintings of Jennifer's., 24. 268. Keepsake boxes for each child with the best things I saved from birth through school years., 25. 269. My dad made me a lighted wood stand to set my crystal sculpture on. Looks awesome!, 26. 270. They finally had skins ready for the new Kindles. Just got one in., 27. 271. One of Roy's Air Force medals. This one was in 1983 for saving them over 2 million with his ideas & work with computers. (I'd rather have had a 5 or 10% reward… but a medals nice too.), 28. 272. Adam drinking from a mason jar. I love that t-shirt., 29. 273. Charles old box of thousands of pages of his tiny handwritten code from when he taught himself programming. (that seems to have paid off), 30. 274. Swapped out the lemons, limes and daisies in my table centerpiece for apples and autumn leaves.