10th Month Completed!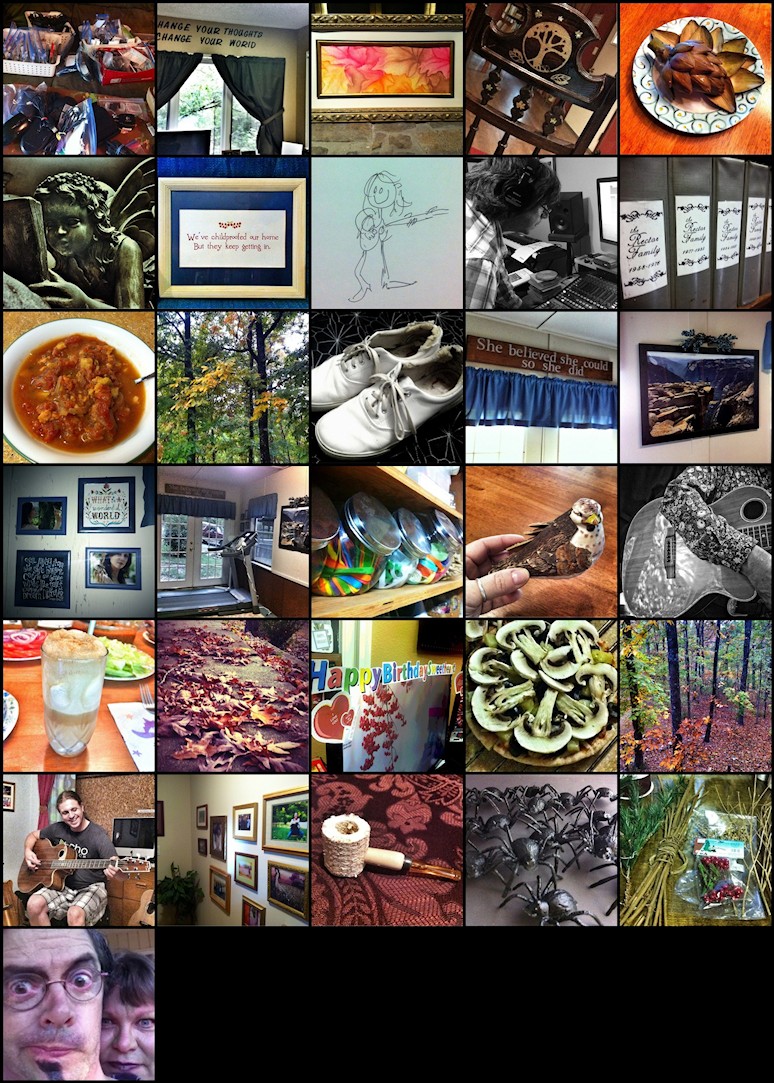 (VIEW ALL MY YEAR'S PHOTOS ON MY Flickr account here.)
LEGEND FOR ABOVE PHOTOS
1. 275. Today's project: organizing/weeding out computer parts., 2. 276. New quote above my end office window., 3. 277. While cleaning out I found this beautiful watercolor Amy did in 11th grade. I just framed it for the living room., 4. 278. Finally got my chair brought here from storage that Jennifer hand painted for me. I love trees so she added one., 5. 279. Afternoon snack. Steamed artichoke., 6. 280. Close-up of the large reading fairie on top of a bookshelf in my library., 7. 281. I re-did and reframed my "child proofed our home" sign today which hangs by our door., 8. 282. This was on the bottom of a note Roy left me on my desk late last night. Stickman Roy. 🙂, 9. 283. Roy doing a little recording and mixing in his studio., 10. 284. Our old albums I kept up until we got a digital camera in 2000 and started creating digital photo albums., 11. 285. Roy made fish stew for dinner, a recipe we've had for years. We both love it., 12. 286. Fall is peekin'., 13. 287. Farewell old tennies. i wore you long past you expiration date. They no longer make this exact kind. , 14. 288. Finally got my exercise room done. Wanted it to be inspiring. My dad cut the wood I I got the letters on Etsy., 15. 289. Middle wall in my exercise room. A 24 x 36 framed photo of son Charles on a mountain. Great inspiration., 16. 290. Grouping I printed & framed in my exercise room. Thats my daughter Jennifer & a wild bird in our yard., 17. 291. My exercise room., 18. 292. My craft jars for various items remind me of an old fashioned candy store., 19. 293. A few of these little guys will be on our Christmas tree this year., 20. 294. Black and white contrast effect of Roy's guitar taken and adjusted from my iPhone (as are all my 365 photos)., 21. 295. Rootbeer floats were Roy's favorite treat as a kid so he splurged & made them for the family get together today., 22. 296. Roy made the driveway spotless yesterday. This is today. Also known as "life under trees". Eh… small price., 23. 297. My monitor when I woke. Ala Roy., 24. 298. Why does Roy's veggie pizza's look so much better than mine???, 25. 299. Lots of leafage happening on the ground behind our house. (I enhanced the color a bit), 26. 300. Adam practicing for a show tonight with Roy., 27. 301. At the foot of our stairs. Most of these photos Amy took., 28. 302. An honest to goodness corn cob pipe. Possibly part of Adam's Halloween costume., 29. 303. Spiders!!!, 30. 304. I'm hoping to turn all this into a nice Christmas swag wreath to hang over our fireplace., 31. 305. Happy Halloween!