A collage of my March 365 photos. 1/4th of the way through the year!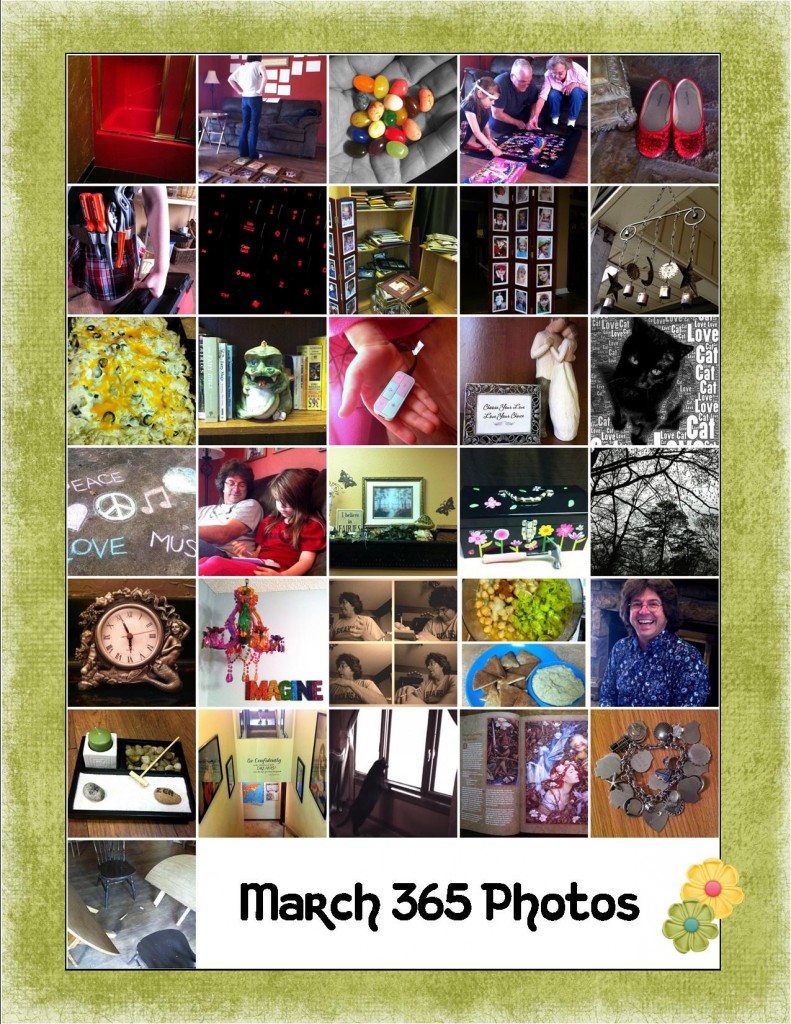 LEGEND FOR ABOVE PHOTOS
(For all my photos in larger format along with descriptions underneath each one you can view my Flickr account here.)
1. 61. Another interesting color scheme in the new house. The master bath., 2. 62. The process of hanging our family photos. Always a challange., 3. 63. Every color a unique flavor., 4. 64. Lyssa and her great-grandparents working a puzzle after our meal., 5. 65. Alyssa Mae's favorite shoes: her ruby slippers., 6. 66. Lyssa wanted tools like her greatgrandpa. We got her some and he made her a toolbelt., 7. 67. A new gaming keyboard I'm testing out. Microsoft SideWinder., 8. 68. Deciding where to place my many framed photos is not an easy task., 9. 69. Put new pics in my photo room divider. 1 grandkid per column., 10. 70. New wind chime., 11. 71. Sour Cream Enchiladas. A family fav we've not had for a long time., 12. 72. Jenny sculpted this guy in school many moons age. He sits in my library., 13. 73. Lyssa Mae's mp3 player. Little girl has music in her blood., 14. 74. Bought this years ago to signify Roy and I., 15. 75. Amy's cat Love Cat. Effects done with with iPhone app Wordfoto., 16. 76. Amy's sidewalk chalk art., 17. 77. Roy resting with Lyssa inbetween doing things around the house., 18. 78. Just finished hanging and decorating the shelf above my computer., 19. 79. More of my attempt to keep guys away from my tools., 20. 80. Overcast and rainy today. Looking up in our front yard., 21. 81.Found this to put in our mermaid themed master bath, 22. 82. Amy's candle chandelier in her room., 23. 83. Roy sitting on our bed talking "domes" with Amy., 24. 84. Made some hummis today with toasted pitas for Roy and I., 25. 85. Happy Roy after dinner today., 26. 86. Always wanted a zen garden. This now resides in the library., 27. 87. Stairwell. laege photo of Roy performing plus others, and a quote., 28. 88. Love Cat, 29. 89. New large fairy book I just bought by Brian Froud., 30. 90. Lyssa's grandma Deb sent her this family heirloom. The charm bracelet belonged to Lyssa's great great grandma., 31. 91. What happened today when I put normal groceries on the dining room table.