My February 365 pics. I missed a couple days for the first time and had to post a day late. Bound to happen now and then I'm afraid.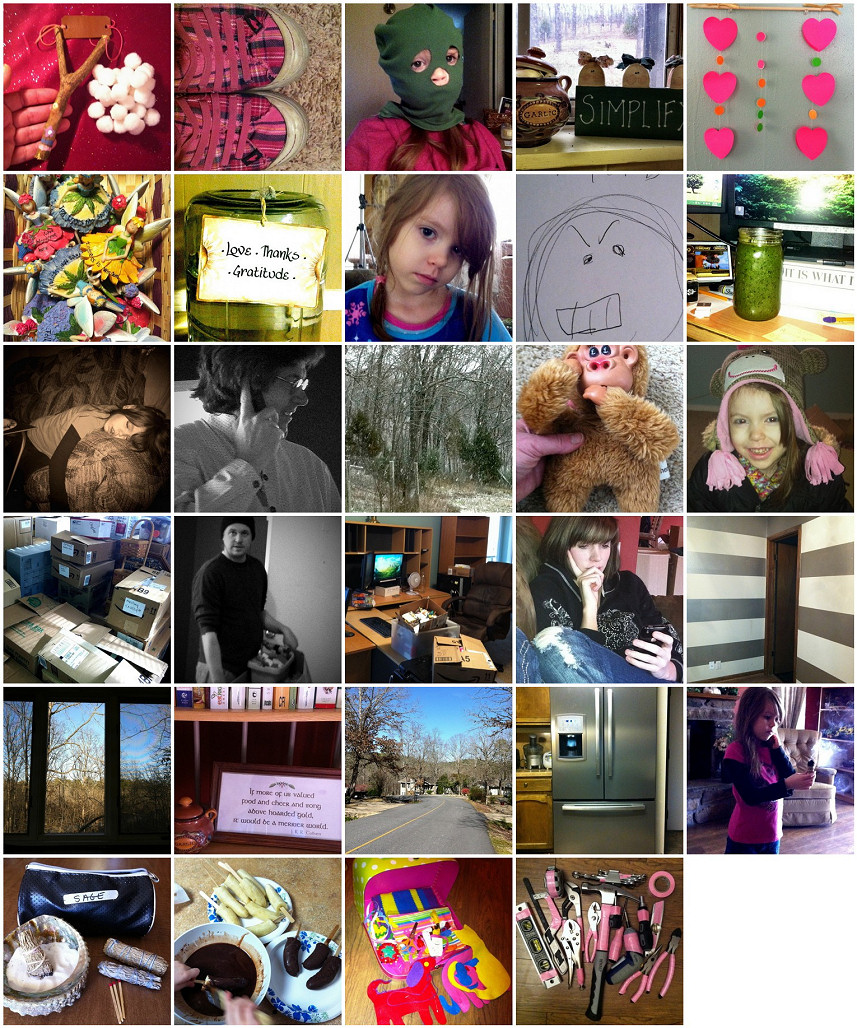 LEGEND FOR ABOVE PHOTOS
(For all my photos in larger format along with descriptions underneath each one you can view my Flickr account here.)
1. 32. Puff ball sling shot my dad made Alyssa per my request., 2. 33. My favorite shoes., 3. 34. Lyssa asked me to make her a Ninja Turtle hood. One green t-shirt later… voila!, 4. 35. Painted this years ago as a reminder. Sits in my kitchen window sill., 5. 36. Valentine mobile Lyssa & I made with heart Post-its and circle labels., 6. 37. A flock of faeries., 7. 38. Those who've seen "What the Bleep Do We Know" get this., 8. 39. What the flu looks like., 9. 40. Lyssa, 6, handed me this and left when I wouldn't do something for her., 10. 41. My desk at 6 am every day. Misc desk stuff & a quart of Green Drink., 11. 42. Fell asleep watching tv after her first day back to school since being sick with pneumonia. (1st time i forgot to post! Pic taken on 10th posted on 12th for the pic on the 11th), 12. 53. Black and white of Roy doing what he does a lot…talk on the phone., 13. 44. Outside Roy's studio this morning., 14. 45. Got this for my dad when I was a teen. Fingers & toes go in various orifices. "Rutherford"., 15. 46. Monkey hat., 16. 47. The joys of moving., 17. 48. Son Adam helping move., 18. 49. Moving day One of the last things to get packed: my computer., 19. 50. Amy just got an iPhone., 20. 51. The current walls in my bedroom. And yes, they will be painted over soon., 21. 52. Looking out one of my office windows. This will be gorgeous come summer., 22. 53. My hutch is set up complete with cookbooks and Tolkien quote., 23. 54. Our home ahead where the road curves., 24. 55. The fridge in our new home., 25. 56. Lyssa Mae smudging our home. (Native American tradition), 26. 57. My sage smudging kit., 27. 58. Lyss & I making chocolate frozen bananas. Organic bananas, cacao powder & coconut oil., 28. 59. Got this sewing kit in today from Amazon for Alyssa., 29. 60. How to keep guys from taking your tools.