Here are a few highlights from the past year. Some have videos or blog posts with the full story
and lots of photos so links are included when appropriate in the list below the photo.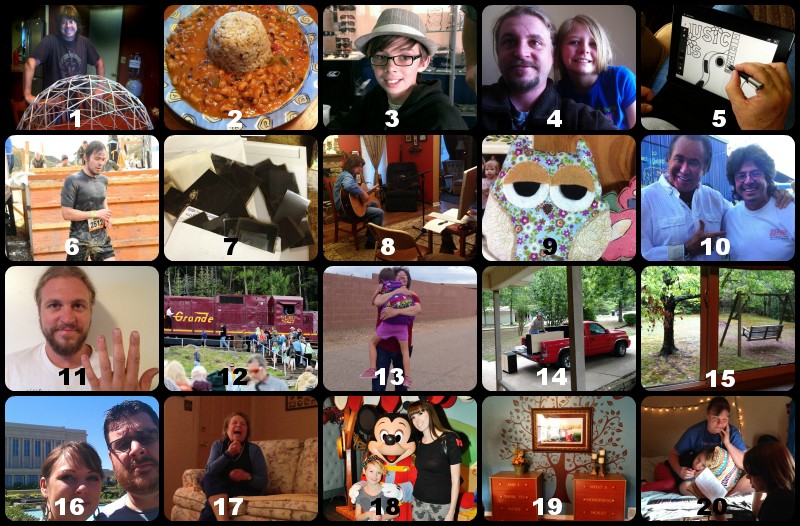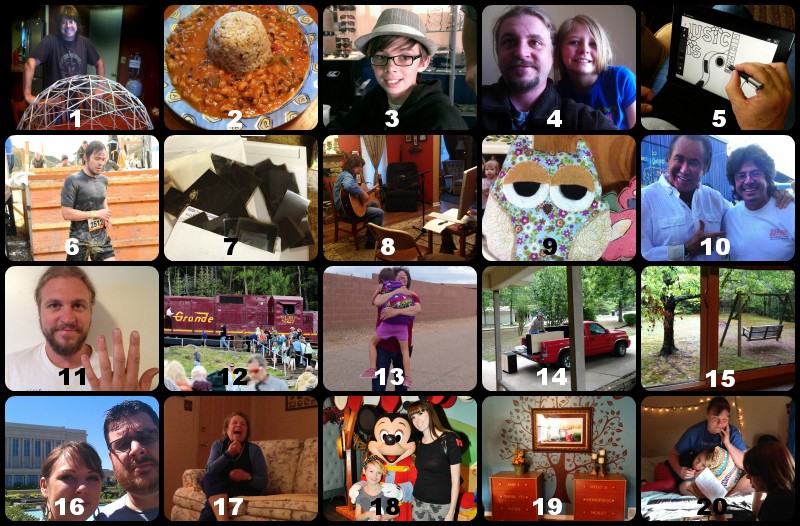 1. Roy is STILL wigged out on domes.  (blog post )
2. Lots of new and healthy recipes tested and loved. (all my recipes)
3. Jenny and Nick's son Ashton gets glasses.
4. Adam moves to Utah and closer to his daughter Viola.
5. We start online stores for Roy full of his artwork. (all Roy's stores)
6. Charles competes in a mudder.
7. Nancy starts a huge photo project scanning in thousands of old family negatives. (blog post)
8. Roy starts up his online StageIt shows. (Roy's StageIt page with upcoming shows)
9. Nancy gets crafty. (blog post on my old craft room)
10. Roy meets some cool folks. (roy's newsletter w/photos)
11. Adam doesn't lose his finger to MRSA. (amazing full story and photos here)
12. The Rio Grand Railroad in Colorado has Roy back again. (roy's newsletter on the trip with tons of pics)
13. Roy visits the kids and grandkids in Arizona. (awesome short video of Roy seeing Lyssa for the first time in a year.)
14. We move.
15. Back again at our house on the hill! (blog post with story)
16. Jenny and Nick visit Mesa where Nancy grew up, met Roy and married.
17. Nancy's Aunt Flo and Cousin Jeff visit whom she'd not seen for decades. (blog post about  Aunt Flo, where gets her laugh)
18. Amy takes Alyssa to Disneyland.
19. Nancy creates a whimsical living room with Jenny's help. (blog post with tons of pics)
20. Nancy visits the kids and grandkids in Arizona.
May this year be truly amazing  for all of us in ways we can't imagine!
~Nancy