January completed my first full month of my 365 Daily Photo Project. Didn't miss a day! I'm enjoying it quite a bit and the best part is seeing all the photos in a collage like this one summarizing my month. None of them are works of art but that's not the point… for me anyway.  I take each one with my iPhone and use only its tools to adjust and upload everywhere. As each photo is taken only on the day I post it  this project is making me view things more intently as I search for new things to snap. So here's to January!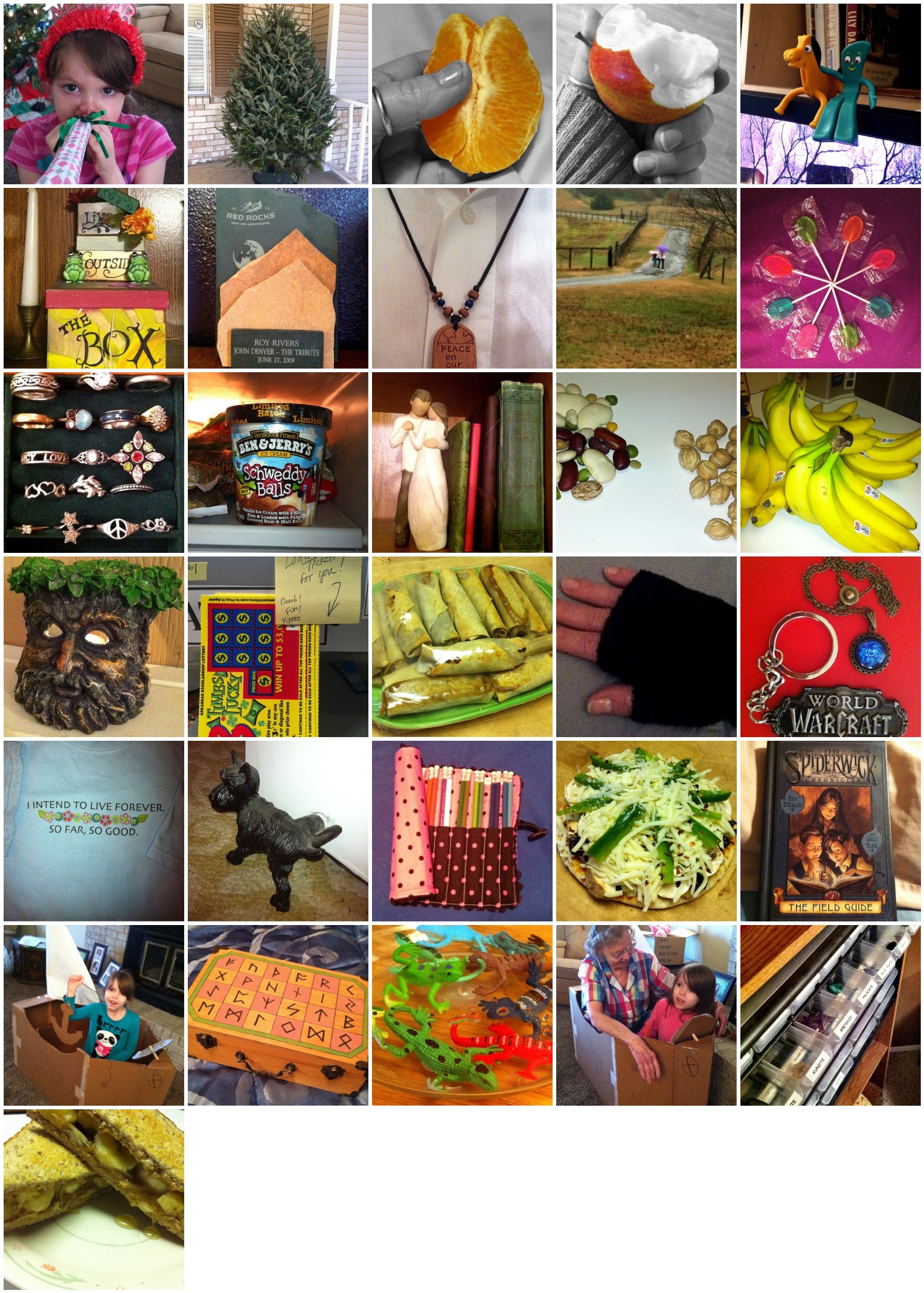 LEGEND FOR ABOVE PHOTOS
(For all my photos in larger format along with descriptions underneath each one you can view my Flickr account here.)
1. 01. Happy New Year!, 2. o2. Taking out the Christmas Tree, 3. 03. Afternoon Snack, 4. 04. Morning Snack, 5. 05. Buddies on top of my monitor., 6. 06. Live Outside the Box box Amy made me., 7. 07. Roy's Red Rocks Plaque., 8. 08. Roy made this necklace and wears it often, including today., 9. 10. Amy and Lyssa walking back to the house in the rain from the school bus., 10. 09. Xyletol suckers. Candy that PREVENTS tooth decay., 11. 11. A few of my fun rings., 12. 12. Roy left this in the freezer along with a cute note on my desk in the morning. :-), 13. 13. I've had this small statue for years. It symbolizes Roy and I., 14. 14. I pick the garbonzos out before cooking the beans as they never get as soft as the others. (And they also look like little brains.), 15. 15. We buy bananas in bulk to freeze for raw smoothies., 16. 16. My Treeman Candle Holder., 17. 17. Roy left these with the post-it note on my computer for when I woke up this morning. Cute as we never buy them!, 18. 18. Baked vegan veggie eggrolls a la Roy., 19. 19. I wear my hand warmers in the house as its chilly in the a.m. They let me use my keyboard., 20. 20. Just got a World of Warcraft keychain and a mage necklace., 21. 21. T-shirt I designed for myself., 22. 22. My peeing scottie dog doorstop., 23. 23. Purchased this holder last month on Etsy for my colored pencils., 24. 24. Why is it when Roy compiles a pita pizza for me it's fancier than mine?, 25. 25.I'm reading "The Spiderwick Chronicles" to Lyssa in the evenings., 26. 26. Cardboard box boat I just made Lyssa complete with captains wheel, sail and anchor., 27. 27. Roy got me this 10″ wood box for Christmas 3 years ago. He painted and put the symbols on it himself. It hold my celtic runes., 28. 28. Alyssa's toy frog and lizard collection., 29. 29. Lyssa's great grandma joins her for a boat ride., 30. 30. My organized crystal storage., 31. 31. Dinner: Peanut butter, banana and a drizzle of honey on toasted wheat bread. Mmmmm…..