Another month off the check list!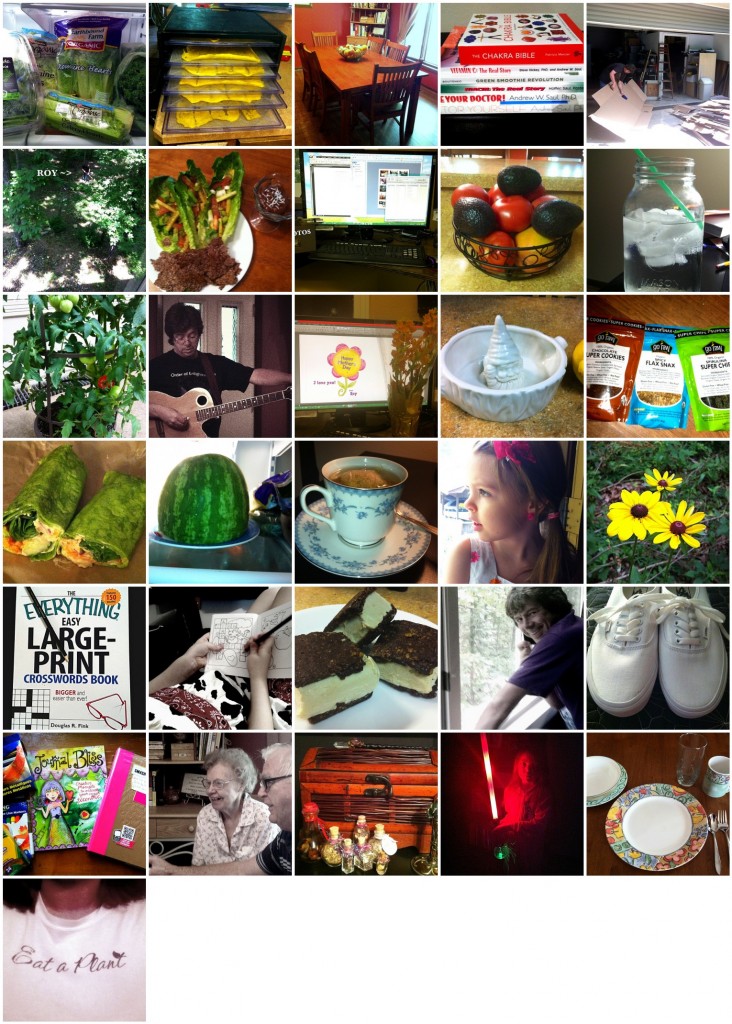 LEGEND FOR ABOVE PHOTOS
(For all my photos in larger format along with descriptions underneath each one you can view my Flickr account here.)
1. 122. Roy & I are going heavy raw green drinks for a while to improve health., 2. 123. Roy made us some raw corn chips in the dehydrator. Heavenly with fresh Guacamole., 3. 124. Finally replaced our dining room table that collapsed a few weeks back. This one should hold us., 4. 125. Added a few new books to my very eclectic library., 5. 126. Cleaning the garage and all the boxes we tend to have from online ordering., 6. 127. Looking down from one of my office windows at Roy doing backyard work., 7. 128. My raw food lunch: Romain wraps, dehydrated flax crackers & avocado chocolate pudding., 8. 129. Working on a new photo, poetry project., 9. 130. Mangos, avocados & tomatoes on our kitchen counter., 10. 131. My favorite "cup"., 11. 132. Our garden is in pots this year. 🙂, 12. 133. Roy tuning up for his show tonight., 13. 134. This message with flowers were waiting for me from Roy when I woke., 14. 135. Amy got me this awesome gnome juicer for Mother's Day. Is this clever or what?, 15. 136. Roy brought me these home as a raw treat from Whole Foods., 16. 137. More food! Veggie wrap from Whole Foods. I could live on these. 🙂, 17. 138. My easy way to store cut watermelon with no saran wrap. Plate keeps cut end fresh. We eat it fast., 18. 139. Love a cup of camomile tea with honey in the afternoon., 19. 140. Alyssa Mae on her way out the door with her mom to go to the park., 20. 141. Found these behind the house early this morning., 21. 142. Because occasionally I just need to accomplish something that's EASY., 22. 143. Lyssa wanted to help on my crossword book so I got her one for her age. She had it down in seconds!, 23. 144. Made delicious raw live ice kream bars from raw cashews, walnuts, agave nectar & cacao powder., 24. 145. Roy with his head next to my office window as that's the best place for cellphone reception in the house., 25. 146. I do love a brand new pair of tennies., 26. 147. My new project: an Art Journal. Middle book is for inspiration. Right book is the journal itself., 27. 148. My parents viewing a cartoon online after our Sunday meal today., 28. 149. Some of my unique bedroom shelf decor., 29. 150. Lyssa's new magical lightsaber with multi-flashing light effects. I kinda want one., 30. 151. Roy decided we needed all new dinnerware last week., 31. 152. Wore my self-designed "Eat a Plant" t-shirt today.