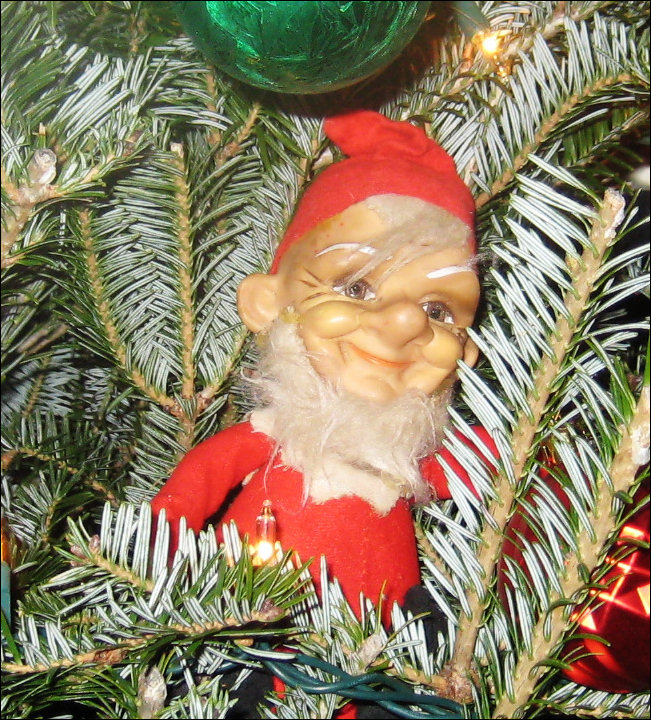 I've had this little guy for many, many  years. My parents gave him to me for Christmas when I was a child. The first photo I can find with him in it is 1967.  So he's at least 44 years old.  He has held a place in our Christmas decorating ever since. He perches in our tree every year reminding me of my childhood Christmases, some of the most magical memories I have thanks to my parents who helped make it so, even purchasing a fake fireplace to add to the Christmas spirit. (We lived in Arizona so fireplaces were uncommon.) I love the season as much now as a 53 year as I did in 1967 as a 9 year old. No matter what time of year I happen to hear a clip of Christmas music it goes right through me and instantly takes me to that wonderful feeling that virtually takes my breath away for a moment. Hence I begin playing it right after Thanksgiving.
I called this little guy "Kris Kringle". I know that is one of Santa's aliases but it still seemed to fit perfectly.  Though fairly worn, with his beard glued on in places a few times, he's still my favorite decoration and will adorn my tree for as long as I'm here to celebrate the holiday.
~Nancy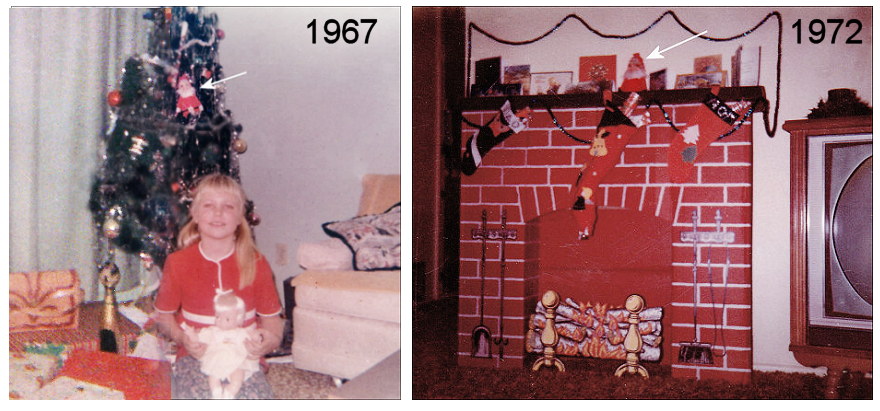 Me, Age 9, and  Kris Sitting in our Christmas Tree.                      Our awesome "fake" fireplace with Kris perched on top.

KRIS KRINGLE IN OUR TREE THIS YEAR – 2011