The Divine Intervention Dome
Roy is currently watching over the dome of our friends Starr Fuentes and Art Jackson.  He agreed to do this before we knew we were moving so quickly so it's made the transition to a new home interesting!  But who better to watch over a dome than Roy? For those who know him well you know of his connection and love for domes so he is literally in his element. He even has a page about domes on his professional music web site.  This particular dome is not only Starr and Art's house but also home to the Divine Intervention Dome Church. If you've never been in a dome before its amazing. The acoustics for singing is off the charts. Needless to say Roy spends many of his evenings in the chapel area rehearsing.
Bosco
He also watches over Starr and Arts dog Jester, a full blooded Mastiff…  meaning he's basically the size of another person.  Roy and Jester seem to have a special connection which I've never seen before and even do some nonverbal communication between them.
Roy and Jester
Every morning at 7 am on the dot… give or take 2 minutes… Jester comes into Roy's bedroom there and puts his nose right up in his face. Roy's not had to use an alarm since being there.  They also run back and forth chasing each other in the dome chapel. Starr and Art also had a small Jack Terrier named Bosco. He was 15 years old and sadly had to be put to sleep last week as he went downhill fairly quickly. But Roy has the most fun stories about Bosco and Jester.
Below are some pics Roy took today of Jester and the dome. You can read more details about the Divine Intervention Dome itself at this link if your interested.
PHOTOS TAKEN FEBRUARY 17, 2012 By Roy Rivers
Roy's Guitars in the Dome Chapel
Dome Chapel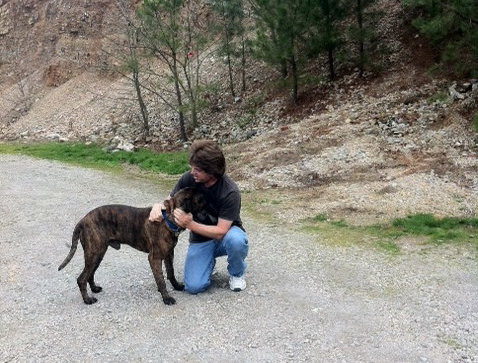 Jester and Roy's Hand
Jester