8th Month Completed!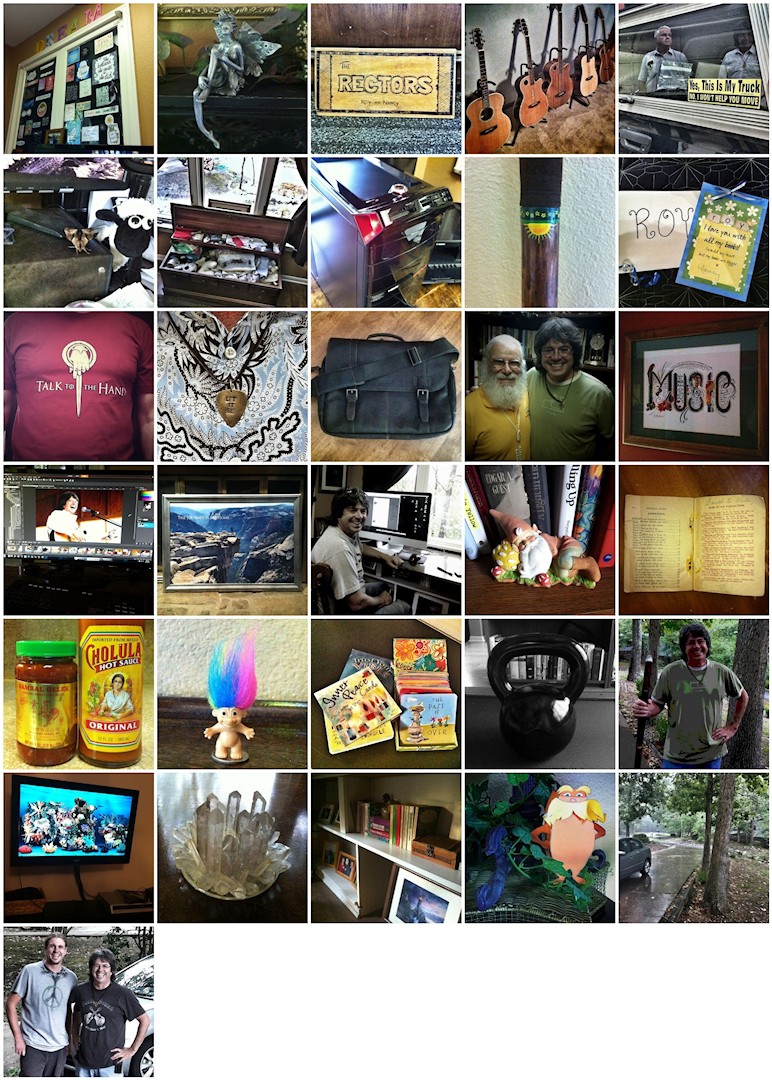 (VIEW ALL MY YEAR'S PHOTOS ON MY Flickr account here.)
LEGEND FOR ABOVE PHOTOS
 1. 214. My "Happy Thoughts" office window I just finished. View from my desk., 2. 215. I miss Amy when I look at this little fairy she got that sits above my desk. It looks (and is built) like her., 3. 216. Roy wood-burned this house plaque for us over 34 years ago soon after we were married., 4. 217. Roy's babies., 5. 218. My dad found this old bumper sticker in his shed & stuck it on. You can see him & Roy reflected in the window., 6. 219. This guy was at my office window, then hung on my ceiling like a bat. I escorted him outside when He sat here., 7. 220. My hope chest I've had since I was a teenager full of stuff from then and also Roy and my early years., 8. 221. My new computer is in the house. And its stylin'!, 9. 222. Roy's hand-painting on his walking stick., 10. 223. Roy's birthday card I created from an idea I got online. It was hanging above the bed when he woke., 11. 224. Roy's new T-shirt. (Game of Throners understand.), 12. 225. I got Roy this necklace for his birthday., 13. 226. Roy's new briefcase. A step up from the nerdcase he's carried for years. This style fits him better., 14. 227. Roy and photo journalist friend Joe Correia. Joe's work has been in the Smithsonian., 15. 228. Fell in love with this print so I put it in a frame I had., 16. 229. Going through hundreds of photos the photographer just gave us of Roy's last show. Lots of work to do!, 17. 230. Just framed this 16×24 photo of son Charles on the edge of this out cropping in Yosemite. The boy inspires me. I added the text "The Journey Is My Home" on the photo. Seemed to fit him., 18. 231. Roy in my office this morning while we work on updating his web sites., 19. 232. Sleeping book gnome., 20. 233. My great grandmothers name written inside the back of her pocket hymn book published in 1903., 21. 234. Testing out 2 new sauces. Right is too reminiscent of Taco Bell. Left is a great chili paste but hot, hot, hot!, 22. 235. Found this little guy on eBay. Haven't owned a troll since the 70's. He's standing on a dime., 23. 236. I have several decks of "feel good" card. You can set them around as positive reminders., 24. 237. Something new Roy and I are doing. A kettlebell., 25. 238. Roy heading out to hike. Added a polarization effect., 26. 239. Just found out I have a fish tank screen saver with my Roku. Fishes swim across the screen., 27. 240. Was gifted this 4 years back. 6″ wide Mini light stand goes under it so light shoots up through the crystals., 28. 241. Semi-hidden shelving under one end of my built in office desk. Keep my paperback novels there., 29. 242. I just assembled the 3D 6″ tall paper Lorax I found online. He seems at home under my desk lamp amidst the ivy., 30. 242. Hurricane Isaac has just brought us some wind and rain in spurts so far. (Knock on wood)., 31. 244. The boys are off to see "The Expendables 2" at the theater.