Little Gnome Ornament Tutorial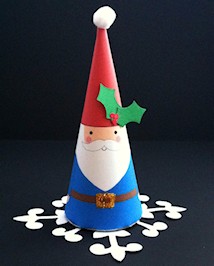 I found this printable gnome pattern online for free and decided to make a few of them for decorations.  I spiced them up just a bit with a few simple "extras" I had.  Mine are going to sit around rather than hang up.  I've created a pdf version of this gals pattern for ease in printing. Her original pattern and link is also at the bottom of this page.
INSTRUCTIONS
1. Download pattern. Gnome/Elf Ornament Pattern (Click and save to computer then print.)
1. Print out on card stock.
2. Cut out along outside edges.
3. Fold and hot glue large part together.
4. Fold bottom point parts in and glue blue base on. (I did not use the white base)
MY ADDITIONS
1. Glued small puff ball on top of hat. (I clipped a tiny bit off the top of the hat to give me a flatter surface to glue the ball onto.)
2. Spread thin glue around the belt buckle and sprinkled glitter on.
3. Cut out paper holly and glued on. Used dots of paint for berries.
NOTES
The bottoms can be a bit rough looking pending on how careful you are. You could also glue trim of some type around the bottom. I just cut out scalloped paper and put around mine though I'll probably nest them inside some garland also as shown.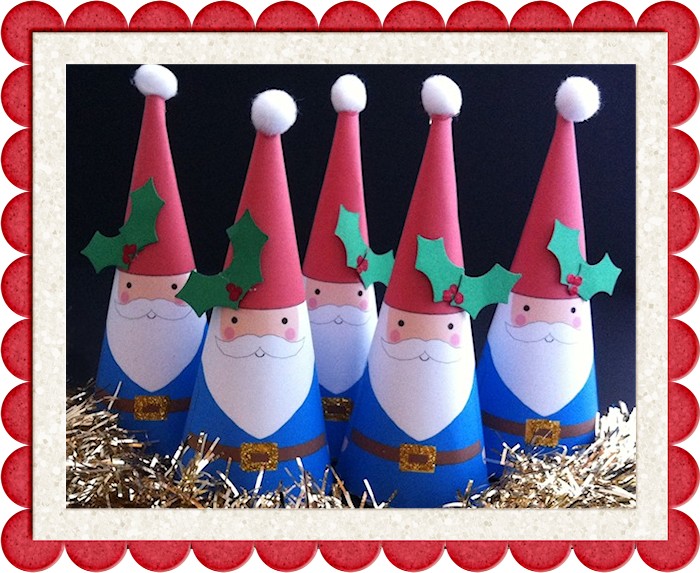 Enjoy your gnomes!
~Nancy
Original Printable Gnome Ornament Courtesy of http://quirkyartistloft.blogspot.com



Other posts you might enjoy: